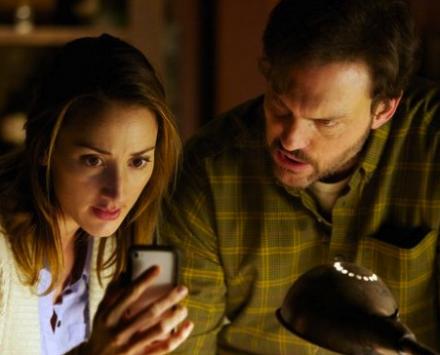 Love is in the air - tvfanatic.com
Grimm Episode 16: "The Thing With Feathers"
Summary: "
Nick pulls out all the stops to plan a romantic getaway for Juliette, but his duties as a Grimm get in the way when he meets some unsettling neighbors
."
Whispering Pines
-
Where is this Whispering Pines you speak of???
nbc.com/grimm
Nick & Juliette have a romantic getaway to...
Damascus
! This town is
east of Happy Valley, west of Boring
(for reals), which happens to also be a good description for Nick & Juliette's situation. Juliette doesn't seem to be very into the getaway spot, due to some creepy domestic abuse next door, nor is she digging the marriage proposal, due to Nick hiding pretty much everything about his life from her.
The spectacular cabin and red farmhouse are located at:
18815 SE 197th Ave, Damascus, OR
(Location-spotting and photos courtesy of OldeSaultie.)
photo from OldeSaultie
photo from OldeSaultie
Adalind's Condo
- "2507 NW Everett" is the address Hank-the-Hexed pulled up on his super-cop computer while cookie-induced stalking of Adalind.
Hank stalking Adalind? nbc.com/grimm
Scenes were actually filmed at
The Sitka apartments
@
1115 Northrup St.
Things turn ugly when Hank physically threatens a gentleman leaving condo #2507.
nbc.com/grimm
Note: In
Episode 3
, Adalind made an appearance in the Fox Tower downtown.
Grocery Store "in Whispering Pines"
This was shot at the
Food Front Coop
@
2375 NW Thurman St

The Spice Shop
returns - from
Episode 10
and
15
Brasserie Montmarte Portland
Brasserie Montmartre
- Hank & Adalind have what looks like a cozy little date #2 at this classic Portland restaurant.
626 SW Park Ave
For you local fans:
Next Friday, April 13, the Brasserie will be hosting a Grimm screening at 9:00.